Cannot fill Uneven Layer with even Products
Hi everyone,

I hope you are well. I need to solve a problem related to Palletizing PowerPac (PzPP).
Problem Description
I need to palletize a load pallet with 10 layers with 5 bags each layer, as shows:
I have a Double Gripper that picks two bags at once. The robot must palletize, picking 2 bags (each time the eoat goes to the pickoff station), and complete each 5-Bags layer, until complete de 50-bags pallet. I made a grouped 2-bags item: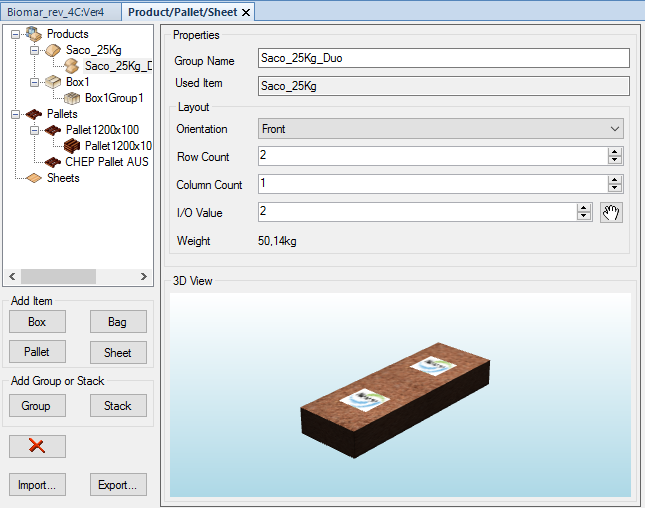 2 bags/cycle x 25 cycles/pallet = 50 bags/pallet. With 25 cycles per pallet would be the optimal solution, but when I'm adding this job, I have some issues:
When I'm adding a new job, allocating the bag into the infeeder, it shows a warning saying "PowerPac cannot complete Mosaico using the selected groups and stacks"
Pressing "Next", shows a window saying:
I say Yes, then when I'm configuring the operation set for my 5-layer pallet pattern, there is a fill error:
So, when I'm trying to do a manual filling, i have this problem:
I cannot save the 6th bag, in order to be used in the next layer, since in the next layer I don't have this "Bag-in-queue" available.
Conclusion: It seems that PzPP cannot palletize uneven layers with an even number of products per pick.
Summary

I have problems to palletize a 5-bag layer with 2 bags each pick & place operation set. Which solution does exist to this problem? it seems that PzPP cannot offer an optimal solution under this conditions.
Problem Constraints:


At optimal conditions, the robot must pick up 2 bags eack pick & place cycle, NEVER by one bag... One possible "solution" would be to generate an individual bag, to fill the 5th bag slot' s layer. Since this can figure as a tempting solution, it is not an optimal solution because is not the idea to pick by one bag, becuase to pick just one bag costs cycle time.

Plase advice me if I'm ignoring some point, in order to palletize uneven layers with even products. My optimal solution would be to save the 6th bag and allocate it in the next layer's first slot.

Thank you very much in advance. Best regards,

Pablo Liberona 
Tagged:
Comments