Addin: Github integration [0.1]
This add-in is tested by me, but it may contain bugs.
If you're working on a virtual station, please save your station before doing actions with this add-in.
There might be edge-cases I haven't tested that makes robotstudio crash.
Make sure to save your station!
I have not had this issue with real-controllers. 
Description:
Adds GitHub version control to robotstudio.
Only robotsystem is handled, not robotstudio stations. 
This add-in works with both real and virtual controllers. But loading times may be longer when working with real controller because the add-in is generating backups.  
Current features:
Links robotsystem with a repository, if no repository exist one will be created.
Repository's will be named after robotsystem. 
If the robotsystem is virtual a prefix with computername will be added.
Real controller: 1600-111222
Virtual controller: DESKTOP-AA11BBB_1600-111222
All repository's created with this add-in will be private.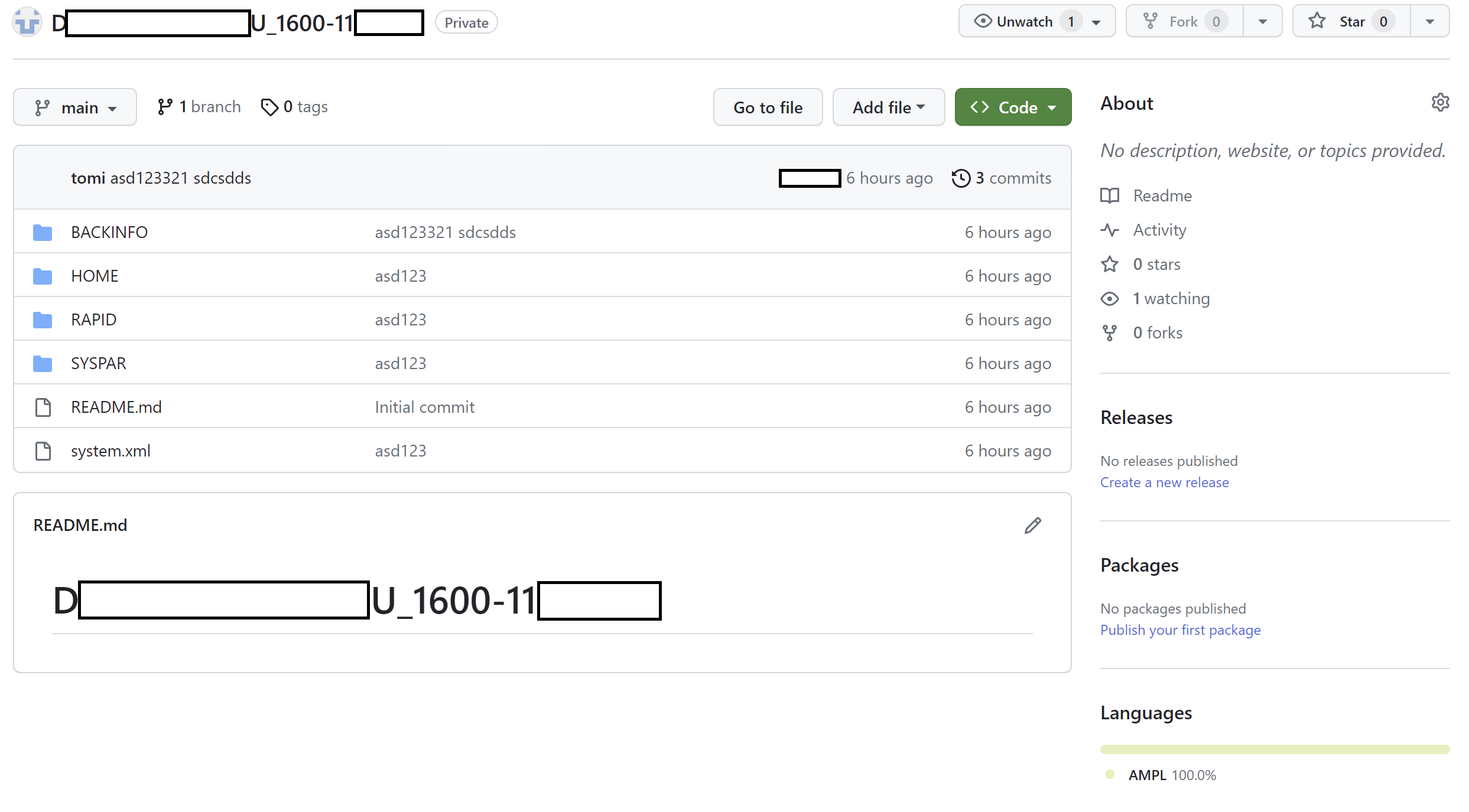 Commit system to repository, a backup will be created and all files will be staged and 
commited to the repository. 
A messagebox will popup asking for a commit message. 
After successful commit the GitHub repository website will open. 
Compare robotsystem with latest commit, changes will be outputed in the output window.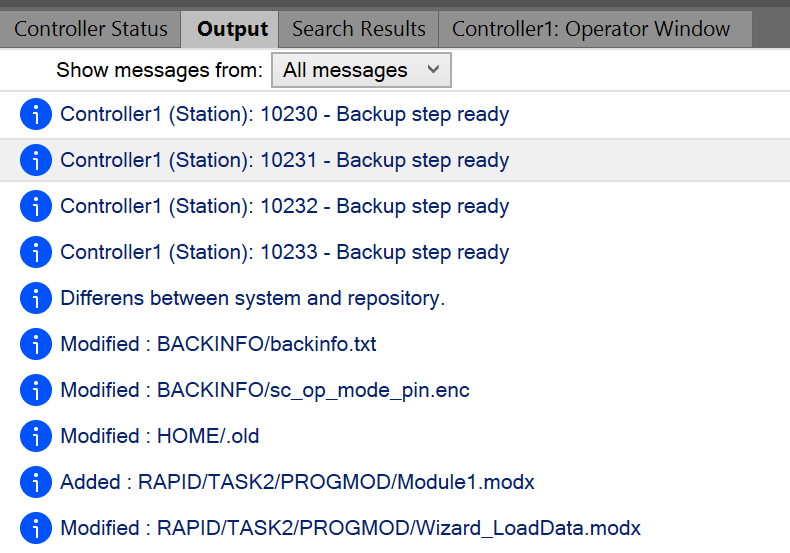 Compare current modules (not commited) with previous commits
Changes are highlighted.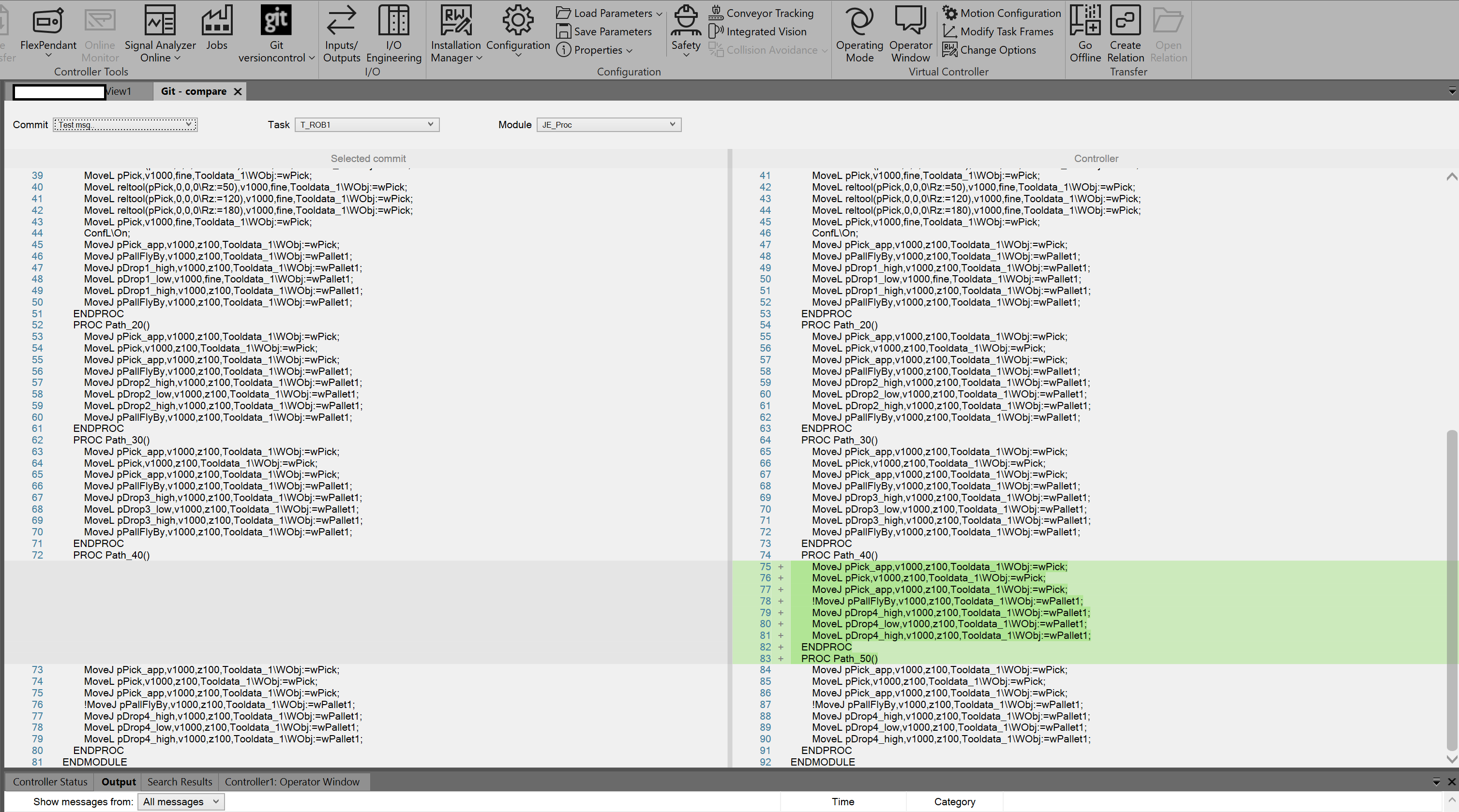 How to install:
Download rspak file, open Add-ins tab in robotstudio. Click Install and select package.
Open Add-ins tab in robotstudio.
Right-click Tw GitHub integration in the left panel.
Select load add-in.
If you want add-in to start automatically when robotstudio starts, select Autoload add-in.
How to use:

Before using the add-in a personal access token (Classic) must be generated from GitHub settings page.
More information at this page: https://docs.github.com/en/authentication/keeping-your-account-and-data-secure/managing-your-personal-access-tokens#creating-a-personal-access-token-classic
(Required) Enter your generated token in the add-in menu "Set GitHub token". 
(Optional) Author name is the name displayed as author to commits. Default name is windows login name. 
(Optional) With author email it's possible to link your personal GitHub account as author.
These features make it possible to collaborate with multiple people using the same access token, even when the repositories are created as private. 
Latest available version:
0.1
How to ask for support / feedback:
Write a post in this thread.
Please write feedback if the add-in is stable for you.
Systemintegrator - Web / C# / Rapid / Robotstudio
If I helped, please press Vote Up 
Tagged:
Comments